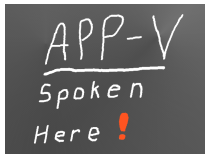 Last fall, Microsoft updated the end-of-life statements for Microsoft App-V with a date of April 2026.  You can see the current statement at this link: MDOP support extended – Microsoft Lifecycle | Microsoft Learn 
Microsoft has never, to my knowledge, adequately explained why App-V has to go away.  However, nothing lasts forever, and it has been a good run — 23 years since we created the original SoftGrid product here in Boston.
This update to the lifecycle was made to previously stated dates and followed a pattern of updating the dates for the "client" side that is built into the operating system to match the end-of-life of the latest OS release.  
Given that Windows 10 22H2 ends October 2025 (Windows 10 Enterprise and Education – Microsoft Lifecycle | Microsoft Learn) but Windows 10 LTSC ends January 2027 (Windows 10 Enterprise LTSC 2021 – Microsoft Lifecycle | Microsoft Learn)  the April date for App-V looks a little strange to me and I expected future updates, which usually occurred after the start of a new calendar year.
But rather than update the dates further, Microsoft has been quiet.  In private conversations with folks at Microsoft, it appears that they believe that they have communicated clearly to customers that there is no appetite to extend it further.  A lack of change is hardly "clearly communicating", but they seem to really mean it this time. 
However, I could not find out was exactly what that means.  This would seem to mean that April 2026 will be the end of security updates, but how this plays out is a mystery.  I'm not sure that Microsoft has yet figured out how this will play out either.  So here is my guess…
The client for App-V is in both Windows 10 and Windows 11 also. I would guess that perhaps the bits will remain in Windows 10/11 releases through the final release of 2025, but after April 2026 there will be no security fixes to that code offered.  Possibly the code might be removed from Windows releases issued after that date, but possibly it might remain in an unsupported and deprecated state for some time.  And we know that the large enterprises most dependent on App-V don't like depending on unsupported code.  
No matter how this plays out, customers using Microsoft App-V need to have a plan on how they will deploy their applications in the future, and if they have not started to migrate yet, they need to start now.
Microsoft's official recommendation (Application Virtualization (App-V) (Windows 10/11) – Windows Application Management | Microsoft Learn) is to replace App-V by moving the OS to Azure Virtual Desktops along with packaging the applications into MSIX and deploying using MSIX App Attach.  But there are lots of other options, and many of the customers dependent on App-V today will need to use a combination of solutions to replace it.
Staying with Microsoft solutions, Windows Virtual Desktops (including multi-user Windows 10 to replace RDS) are an option for the OS portion, but remaining with on-prem deployments of Windows 11 is good too.  And don't forget Azure Stack as a way to leverage Azure services while keeping the workloads in-house.  In addition to using MSIX App Attach for delivery, Intune delivery for persistent OS scenarios is an option also.
[Side note: We don't know that RDS is going away, especially since multi-user Windows 10 is only available in Azure currently, but clearly RDS isn't getting a lot of love these days inside Microsoft].
However, based on my most recent compatibility testing (The MSIX ReportCard for 2003 – Confessions of a Guru (tmurgent.com), only about 80% of App-V packages are fully compatible with MSIX.  This has been improving each year, but it is prudent to assume that some of your existing applications still won't work by 2026.
For those applications, you can look to replace the apps, or look to other methods to package and deploy, including:
EXE/MSI native installations into the image or deployed after the user is assigned.
App Layering products, like Citrix App Layering, VMware Volumes, or Liquidware.
Products like Numecent, or any of the old App-V virtualization competitors that still seem to be hanging around.
For deployment, in addition to App Attach and Intune, both Citrix and VMware can manage deploying native and MSIX apps.  Additionally, AppVentix has been gaining popularity for its simple approach to delivery, especially for smaller customers.
I will likely continue to offer our combined Masters-level training class for App-V and MSIX packaging for the rest of 2023.  See Future Training Classes (tmurgent.com).  There remain App-V customers with new packagers that need to keep deploying in App-V today as they gear up for MSIX.  Next year I will probably offer the App-V class separately on an "as-needed" basis and focus on helping companies move as much as they can to MSIX.  
Additionally, I will continue to push along the app-compat story with MSIX, through my free and paid tooling.
If you company needs help on developing a strategy around replacing App-V, give us a shout.