You probably saw my post about the end of life for App-V About Microsoft App-V End of Life – Confessions of a Guru (tmurgent.com)
In this post, I'll highlight a summary of what a migration project looks like. You have time, but if your organization depends on App-V today, someone should be starting a planning project now.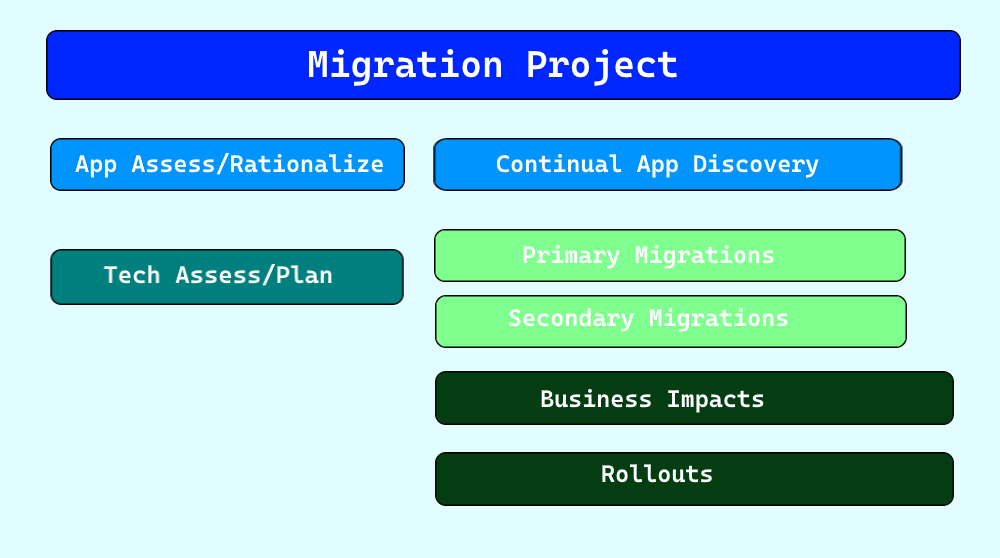 App Assess/Rationalize: This step involves determining the list of applications that will be migrated. On most migration projects, the determined list will be augmented by about 20% by the end of the project.  This is represented by the Continual App Discovery item, where things that exist but were not initially known are found, and new business requirements appear.  In migrating from App-V, you should have a pretty good initial list already so I might lower that 20% but fear that the coming "AI everything" wave will cause an increase in new business apps (many of which will be short lived).  So your plan should expect project scope increases.  Don't skimp on the rationalization part either; determine if the app is still used/needed or if maybe a better way exists to meet the business need today.
Tech Assessment/Plan: First, this should be consulting with other groups in the organization to understand other potential migrations. Maybe, for example, there is a plan to drop Citrix for AVD, on conversely maybe move towards Citrix and turn all of those pandemic laptops that won't run Windows 11 into thin-clients. Once you understand what scenarios you'll need to support, then you can look at the options for how to prepare/deliver the apps. It might be the Microsoft answers, or sometimes third-party solutions. It will probably be a combination of techniques, which is why the drawing has both a Primary Migrations and Secondary Migrations path.
Business Impacts is the part of the plan that covers other impacts on the business. For example, training the help desk, or re-training employees.
Rollouts. Everybody loves a good rollout. You should try to roll out in pieces as you go along, rather than a big-bang style roll out at the end of the project. But that isn't always practical.
Other: Although not shown, there is an argument to be made that this is a great opportunity to implement a full application lifecycle strategy going forward. Like operating systems, applications are moving to shorter lifecycles and the idea of install-and-forget is making less sense. With the implementation of proper automation, this can lead to less work for IT and happier end-users. This might include:
Automation of the discovery process of new versions.
Automation of the packaging process.
Automation of the UAT.
TMurgent does not offer a service to hand-hold you through this process, although there are many consulting services that would be glad to assist you with that. But we can help you (directly or through the consultant of your choice) on the initial plan and if the packaging team needs new training, we can definitely help you with that.