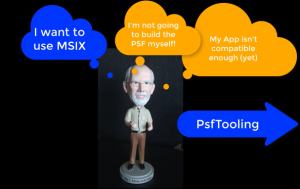 PsfTooling is the free tool to work in conjunction with the Microsoft MSIX Packaging Tool.   [Download_Page]
Add December and February PSF changes through v2023.2.5 release. See New in Psf v2023.2.5 – Confessions of a Guru (tmurgent.com) 
All Psf components are now digitally signed using our code signing certificate (they come unsigned from the Psf).  This resolved an issue from an app that complained if it were started by an unsigned process.
Add support for the new MfrFixup. This tool makes the MfrFixup in IlvAware mode the default selected when file-based fixes are needed.  The traditional FileRedirectionFixup remains available to choose instead.
Ignore folders that were copied to the desktop when looking for shortcuts.  Often people copy the installer folder to the desktop before starting to package and as PsfTooling looks for files added in the last 30 minutes (by default) it would create unwanted shortcuts.
Numerous other small fixes were addressed.
This release is available immediately from the TMurgent site and should soon be updated in the Microsoft store.  PsfTooling is a free community tool. 
An updated 4.5-minute video showing how to use it is below: