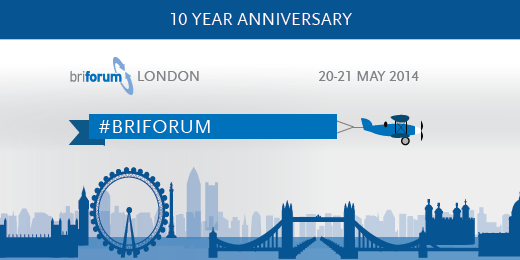 This year marks the 10th Anniversary of BriForums, a rather unique conference that I have had the privilege of speaking at many times. In fact, I've lost count of how many I have spoken at since I have spoken at every one and for many of those years there has been both one in Europe and one in the US. This year I will be speaking both at the London show next month and the Boston show this summer.
My favorite moment at BriForum? Well it isn't the fire and subsequent Bomb evacuation at the 2nd Washington show, which while quite memorable, doesn't compare to the first show.
The very first BriForum was held in a movie theater in Silver City (near Washington DC). Most of the speakers barely knew each other, mostly from on-line presence and randomly running into each other at other shows like the Citrix iForum (what Synergy used to be called). Some of us had met at dinners held by posters at the ThinList, but by and large we didn't know each other that well.
Which made it such an exciting show to hear sessions led by these awesome people. And all of us were in awe of each other, while hoping that we were good enough to not get heckled off stage when it was our turn.
So there I was, standing on the stage of a movie theater giving my presentation when I got interrupted. You know the crappy music they play along with advertisements to go buy some popcorn and soda before the movie starts? Well that started up in my room about 30 minutes into the session.
Not knowing what to do, I exited out into the lobby to find Gabe making popcorn at the popcorn machine. No, he didn't turn on the music, but he was the guy who could figure out how to get it off. I returned to the room and it stopped. But that's not the end of the story.
When the videos came out, I realized that the entire time I was on microphone. Everything thing I said; the conversation with Gabe and all, came out on the recorded audio.
UPDATE: Brian posted a link to the video here. The music hit at just after the 34 minute mark.
Fortunately neither Gabe nor I used any bad language!