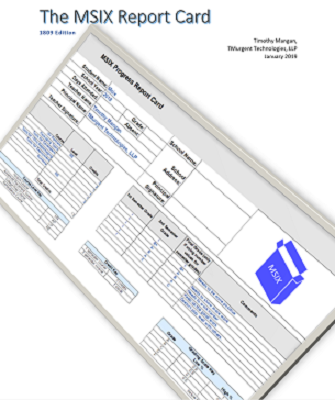 Today I am releasing the first of what should be an annual series of "Report Cards" on the state of the MSIX space.
You can get and download the report from this link.
This report covers the state of the three basic aspects of MSIX:
Support from Microsoft Independent Software Vendors to release in MSIX format.
Support from Tool Vendors
Runtime Support inside the Operating System
The purpose of the report is to gather up the best information about MSIX and report upon how we are doing with it. Over time, I hope that this will become the benchmark that vendors use to improve upon their support.
I will be updating the report with new editions over time. Certainly every year, but perhaps more often if appropriate.
I look forward to feedback and input from everyone involved in this space. If you think that I didn't get something right, let me know about it and we can improve the next version.
It is early days for MSIX, but it is having an impact on the industry. At TMurgent, we have been busy updating our training classes to include both App-V and MSIX Packaging. Enterprise Desktop Engineering will need a full set of skills to handle different kinds of apps, and we are ready to help with that.