In two weeks we will have the final Briforum conference in Boston, as Brian has announced that he is leaving TechTarget, and IT for a while.  This will be the 20th Briforum, which I have had the unique honor of being the only person other than Brian to speak at all 20 events. If you're on the fence, you might just want to attend…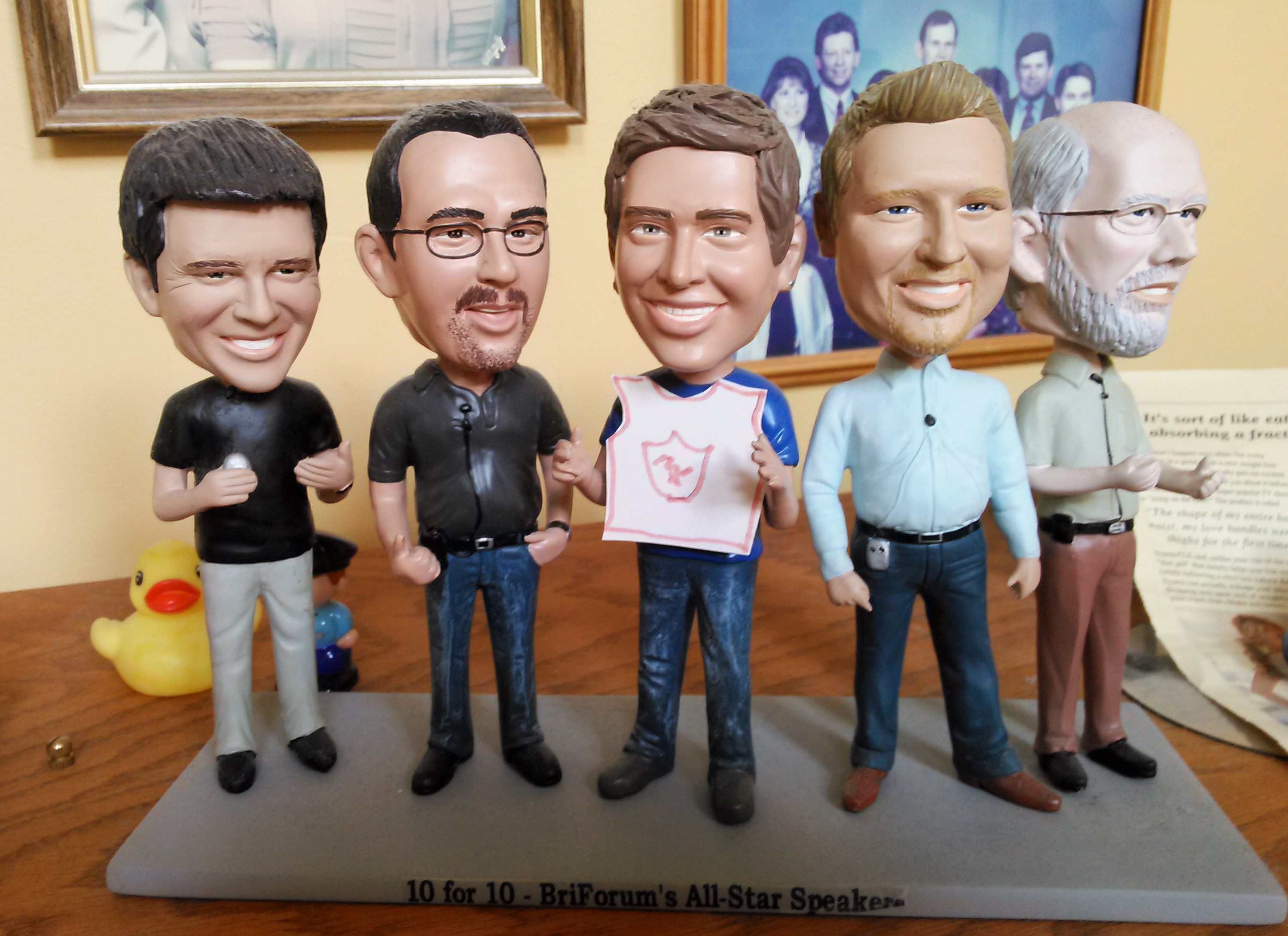 Benny, Ron, Brian, Juroen, and Tim
Briforum, which is sort-of meaning "Brian's Forum", was a name play on Citrix IForum (predecessor name to Citrix Synergy), which back in 2003 was a completely vendor-run show.  IForum was an important show to attend, but all of the content and speakers were driven by Citrix and Brian saw the need for a community run event, independent of vendor agendas, to help customers understand the realities of the desktop (and then virtualization, and then cloud, and then mobile) spaces.
The impetus to start Briforum came from Brian and others that Brian knew in 2002; Brian and I barely knew each other.  We had met only once, in Boston. For content there were many independent consultants that he tapped, and we all knew each other from Jim Kenzig's "The Thin List" (aside: yes, it still does exist) and ThinList dinners at Shula's during IForum.  When Brian reached out to me for help putting on sessions I was definitely all in.
My first session was a joint session Brian asked the great Rick Mac, Ron Oglesby, and I to run.  Brian described it to Ron and I as a kind of workshop to talk about applications, and we expected it to be a panel discussion.  But Rick showed up with a full slide deck and demos, so Ron and I sat foolishly on stage and watched with everyone else.  My second session, on using WMI, was interrupted in the middle by a most unusual incident.  You see, Brian hosted the first BriForum at a Movie Theater in Silver City (near DC).  Half-way through my WMI demo,  one of those pre-movie commercial to encourage you to go buy popcorn started up in the room.  I ended up going out into the lobby to find Gabe (who interestingly enough was making popcorn at the time) and he got the music shut off.  When the videos from the event were released I was surprised to find that the wireless mic worked all the way out to the lobby and our conversation was recorded for the video.  Fortunately I was polite!

This is actually from the 2nd Briforum in DC
BriForum, and the Brian Madden community, has been an indispensable part of my life for the last 13 years, as I transitioned from being an independent developer to consultant and trainer.  I have met and made friends with many of the other fantastic speakers that Brian draws in like moths, as well as quite a number of non-speaking attendees.  Ultimately, we all learn from each other and we all are so much richer thanks to Brian.
And of course we also need to thank Brian for the Citrix CTP program! He was the inspiration for, and driving force, to creating the program which is a true partnership between the CTPs and Citrix aimed at improving communication both ways between Citrix and their Customers.
While conferences in general are often more open to new ideas than in the past, and the rise of interest in local community/meetup groups has been fantastic (and the website BrianMadden.com will continue on with Gabe and Jack), I will dearly miss this event in the future.  Quite simply, there isn't anything like it for IT Professionals and Briforum has served its purpose in driving the industry to be more open.
With the final BriForum being in Boston (my home), Mary Jane and I are offering a walking tour of Boston in the after-noon on Monday July 25th, the day prior to the event.  We run most of out training classes in Boston and love to show off the town, so Mary Jane knows how to put a great tour together.  If interested, just show up in the lobby of the Seaport Hotel at 12:20pm.  If you miss us, maybe arriving a little too late for that start, just text me (+1) 7814920403 and I'll tell you where to meet us.  A certain someone, who has been to Boston many times but never as a tourist, has indicated that he plans to attend.
So let me join the chorus of others to thank Brian for creating this community!
Tim Mangan