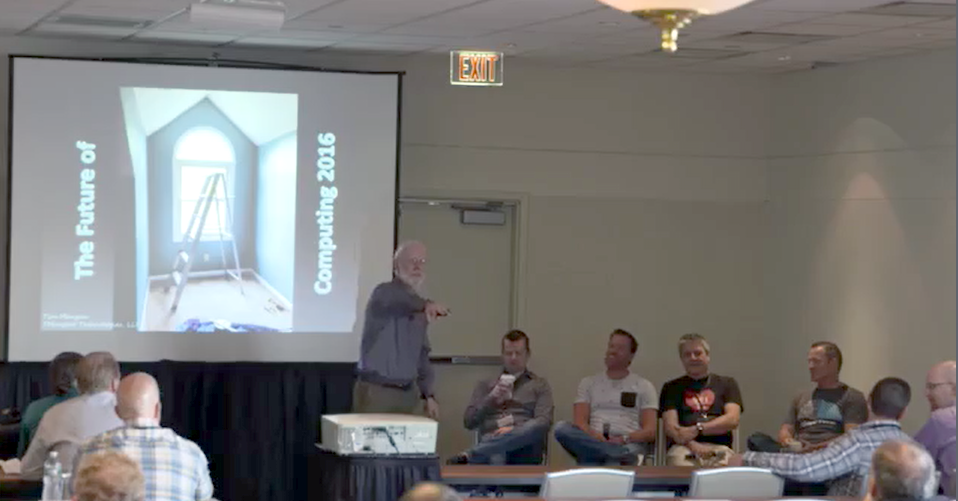 This summer we held the final (we think) BriForum here in Boston.  These 20 conferences have been both fun and very educational and I'm sorry to see them end.  So at the conference I pulled together a panel of some of the top minds in the desktop and virtualization space and had an excellent informative and fun session called "The Future of Computing".
Joining me for the session were:
Shawn Bass (CTO of EUC at VMWare)
Ruben Spruijt (CTO at Atlantis Computing)
Dr. Benny Tritsch
Rick Dellinger
An awesome audience
In the session we started by asking the audience to answer a survey with couple of questions, which we then used as topics to discuss. I promised to post the full list after the conference.
The first question was "Write a SHORT idea on what computing might look like in the future.  Just the headline".  The second was "Explain headline in more detail to entice our panel of experts to pick your idea for discussion". Here is a list of the responses:
Any device, anytime, anywhere. User persona/credentials, data, software, and device/OS will be separate and interchangeable to make your computing experience.  Note: This was more or less Brian Madden view he presented in 2012.
Upload your college education to your brain in just 30 seconds. [No enticement offered].
Applications will be primarily web based or available on mobile platforms, and hosted by public cloud providers – in SaaS or IaaS platforms. [No enticement offered].
IT administration finally gets easier. Hyper-converged is easier than Cisco UCS. Cloud services is easier vs. building your own.  Biometric is easier than stupid PIN and passwords.
Inter-connected devices, distributed computing power.  Never offline. AI, or expert systems, that collect billions of data entry points and process it. Every job –> has a virtual [unintelligible word].
Enhanced Reality: Is this what the corporate world is waiting for? [No enticement offered].
A clash between information, security, and privacy. What can be tracked doesn't mean it should. "Big data" vs personal security. Who is the "Big brother" behind the manipulation of data? Think "Watch Dogs" video game theory with the CTOS. Video Games, Theory, Big Data, Security. What is not to like in this one?
Everything will be in the cloud.  Plain and Simple.
Purely cloud based, social presence and interaction will become automated. Similar to dark net computing depicted in the novel Daemon by Daniel Suarez.
Minority Report. Immersive computing experience where one can interact with & manipulate data.
"10 reasons why you don't need a PC anymore – #4 will shock you" This is kind of ambitious-cum-clickbait headline that will get more common as the nature of general end-user computing in the home (non-enterprise) moves further and further towards the "walled-garden" style. As seen by mass adoption of iOS/Android devices and pervasive IAP (in-app-purchases) I foresee a push in the consumer space towards a limited-capability primary device (iPad/Android) with integrated options for DaaS; possibly even provided by Apple/Google via a cloud-hosted MacOS or ChromeOS.
Consumer – wearables, apps will slowly go away.  Business – augmented reality fed by bis data, location awareness. In the past business apps drove consumer apps. In the future (and somewhat now?) consumer apps/devices will drive business apps & processes.
Something new. We're probably not talking about the next big thing yet. (Sorry)!
Augmented reality in the form of a "google glass" type of device.
More consumer driven. Enterprises will have to adjust around consumer devices.  "BYOD".
BYOD will be more of a reality. Cell phone "docking" will be more common. Privacy(!) will become more of an issue. Net neutrality will be at risk.
BYOD. More data, put data in the cloud. Apps to handle the large amounts of more data.  BYOD, Vdisk, App-V, XenApp
Tiny "phones" with projected images or pull-out flexible display to be used as primary computing device for everything personal & biz.
Deep learning, AI in the cloud.
Software & Computing in general will have no boundaries, be it platform (OS), infrastructure (cloud, on-premises), devices (blade servers to modules), etc.
Apps in Appland. IT living in App layers – consumers want single click simplicity in launching/use of Apps leaving security & businesses (back office) apps scrambling to catch up to life outside the OS shell.
Memory Centric Computing – no disks.  All hyper-converged.
We had a great discussion around a bunch of these topics, and could easily gone on for another hour when the 70-minutes had ended.  And we all enjoyed Dr. Benny getting called out by Priya on something he said.  Unfortunately the video is only available to attendees of the Boston or London shows right now, but presumably they'll go public sometime next spring.  This was one session that will not loose value quickly!
Thank you to my fellow speakers, and to the audience for making this a memorable session.