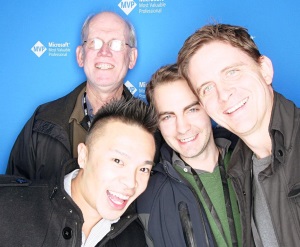 Yesterday, Microsoft released App-V 5.0 SP2 as part of MDOP 2013 R2. (The photo on the left is from the MVP summit two weeks ago with myself, Nicke Kallen, Aaron Parker, and Adam Kiu of the App-V Dev team. He couldn't tell us when the release would come down, but clearly his work had been completed and he was one happy cookie). Rather than talk about the cool stuff (you can read that elsewhere) I am going to talk about some realities. The biggest competitor to App-V 5.0 is App-V 4.6, not the going-away Citrix Streaming and not ThinApp. I have been cautious about upgrading in the last year, so let's update where I think we are with what version you should use.
For companies new to App-V, 5.0 SP2 is definitely the way to go.
But for companies on 4.*, I have been more cautious. Unless they had a specific need to upgrade, I said that they should be working with 5.0/SP1 in the lab but that SP1 was not necessarily the release we wanted.
5.0 SP2 adds significant advantages, and I believe that now is the time for most customers to move on. I might even say something nice about virtualizing office once I see companies happy with it for about 6 months. There will be some gotchas along the way, but so many of the things you work-around today with 4.* go away so it will be worth it in the long run. However, there is no need to rush it…
4.6 SP3 was also released yesterday. This supports your need to handle the newer operating systems, 8.1 and 2012R2 without removing support for those older client OSs. If you can't handle Win 7 SP1 as the lower end of client OS support, you'll need to keep this around.
We need to do some performance testing on the release. Chances are that we have some improvements over the Beta, but maybe not everything. I wouldn't want to commit RDS/VDI workloads company-wide to 5.0 without doing some pilot testing including performance testing.
We need to think about the automatic silent deployment of the VC runtime/msxml components a little more. I love that it solves the problem automatically, but in highly secure deployment scenarios you really don't want older versions with known security flaws being dropped on the system. We can handle this — but not if you take the attitude that you can just ignore VC Runtimes from now on.
XenApp customers that don't give any users access to the full desktop probably want to disable the new shell extension support at the client, since it will slow things down at inappropriate times without giving the user the functionality. I think this can be disabled at the client level using the new EnableDynamicVirtualization configuration setting, but I'll need to play with the actual release bits to be sure what the side effects are.
So go get the bits and start having at it. Be cautious, but move on!