Welcome to TMurgent Technologies LLP. This site provides access to on-line resources for practitioners in the Application Virtualization, Server Based Computing, and Virtualization at large marketplaces. TMurgent is known around the world as the leading resource for information on and help with Microsoft Application Virtualization, also known as "App-V".
| | | | | |
| --- | --- | --- | --- | --- |
| | | Did you know? In addition to our training enterprises, TMurgent offers contract services to software vendors wanting their products to work well with Microsoft App-V. | | |
First Public App-V Class in Europe!

We offer our public App-V Experts Training Classes in the US around four to five times a year. Normally these are held in Boston, but once in a while we move it around to warmer areas of the country.

For the first time in over 6 years we are starting a new training offering in Europe.

This class will be led by Tim Mangan.

Get the best App-V Training from the top expert in the world.

We also offer private-onsite classes to most countries on the European continent.
 

  Coming to an OS near you

Microsoft Application Virtualization is now part of the base operating system.

Get Started here

then...

Get Trained on 5.1/5.2!


Jump-start your project with us

Architecture Consulting,      Training,      Contract Sequencing,      Package Conversion
Make the Case!

Microsoft is adding App-V to the core OS

Read about that here

then...

Read "Make the case"


White Paper available to help a Software Vendor make the case for an internal project to support App-V

TMurgent: Experts in App-V since before it was App-V

Need training but don't want to travel?

Try Onsite Training!





We are often contacted by companies that have several people needing training, but can't afford the travel budget or time out of the office for their whole staff to be trained.

If you have 5 or more peple to be trained, a custom on-site option should be considered. Training is customized to your needs. We can work on your apps. Design and Implimentation can also be added. Cost is based on a fixed daily fee not dependent on the number of students.

Call Mary Jane at (+1)781-535-4954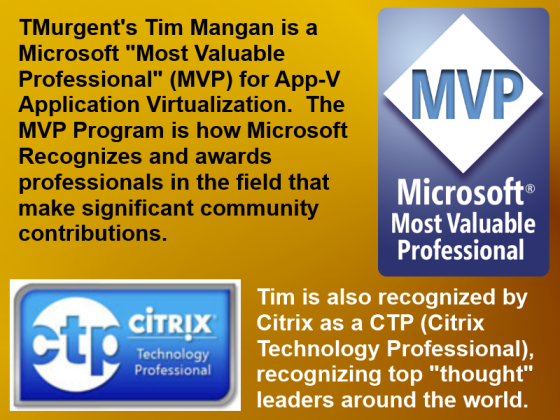 Awarded Best App-V Blog for 2015

European App-V User Group, Amsterdam, The Netherlands, March 20, 2015