Type:
Free
Version:
2.0.0.0
February 27, 2019
PsfTooling is a GUI tool for working with Microsoft MSIX Packaging Tool and the Package Support Framework (PSF). Use on the packaging VM to inject and configure the PSF into your package.
---
The MSIX container presents challenges for certain applications, especially the older ones. Microsoft created the Package Support Framework (PSF) to help address these, but you are on your own to implement it. It is only available in source code form up on GitHub here.
PsfTooling is a free community tool from TMurgent that helps you inject the PSF files, create the json based configuration for them, and fix up your shortcuts to use it. And the tool includes a pre-built version of the PSF so you don't have to build it yourself.
Version 1
PSFTooling V1 was simply a set of files in a zip container.
Released as set of files without an installer. Drop onto a network share for use while packaging.
Graphical User Interface to help with selecting app shortcuts and configuring shortcuts and json..
Includes pre-built PSF components with changes added to mainbranch on 2/20/2019, including:

Improvements to TraceFixup to support output to Event logs
Improvements to PsfLauncher to allow app to use app folder for current working directory
Release of PsfMonitor to complete "ProcessMonitor" like solution for MSIX
Version 2
PsfTooling V2 includes the following:
Released as an MSIX package itself! Get it from the Windows Store.
Improved User Interface to help with more complicated packages.
Support for apps with shortcuts to files.
Includes PSF changes added to mainbranch on 2/27/2019. See below for details on these changes.
Additions to PSF Supported in PsfTooling V2:
We submitted a pull request that was integrated into the main branch of the PSF on 2/27/2019. This version supports these changes, which include:
The ability to have shortcuts through PSFLauncher point to non-executable files. Often you want your package to have a shortcut to something other than an exe. For example:

A .txt, .rtf, .doc, .docx, .pdf, .mdb or other document type files.
A, HTA file to be rendered in a browser.
A URL to be rendered in a browser.
Previously the PsfLauncher only operated on exe files, and sometimes we want to let the local client decide on the exe to use to render the target using the local FTAs rather than hard the association in the package. With this change, non-exe targets will use the shell to execute the "file", allowing the local FTA to be used. This change does not affect launching of EXE files.
The ability to specify command line arguments for the target defined in the config.json file. This supports migration of shortcuts that have arguments as MSIX shortcuts themselves do not allow specification of arguments (currently).
A post further explaining those changes may be found here: https://www.tmurgent.com/TmBlog/?p=2896
PSF Tooling will automatically fixup shortcuts to non executables and those with arguments to use PsfLaunch for you when you pick the modification of the shortcut.
The improvements to the UI allows you to make multiple passes with the wizards, using different types of fixups as needed. For example, you might need FileRedirectionFixup patching to a shortcut running an exe but not for one pointing to the documentation.
Training
First, watch this 15 minute video about V1 of the tool. Then see below for download information and start packaging!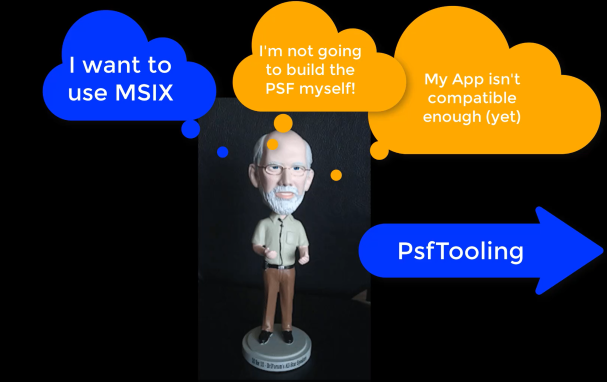 Download:
The software is now delivered as an MSIX package from the Windows Store. You can get it three different ways:
Just go to the Windows store and search for TMurgent-PsfTooling! in the Apps area.
Use Start-->Run on the start menu and type ms-windows-store://pdp/?productid=9NC6K0Q954JV