Type:
Free
Version:
4.2.0.0
August, 2020
PsfTooling is a GUI tool for working with Microsoft MSIX Packaging Tool and the Package Support Framework (PSF). Use on the packaging VM to inject and configure the PSF into your package.
---
The MSIX container presents challenges for certain applications, especially the older ones. Microsoft created the Package Support Framework (PSF) to help address these, but you are on your own to implement it. While there is a NuGet package for developers, for IT Pros repackaging apps it is only available in source code form up on GitHub here.
PsfTooling is a free community tool from TMurgent that helps IT Pros with repackaging into MSIX. While in the installation mode of your packaging tool, after installing the application to be captured you then use PsfTooling to inject the PSF files, create the json based configuration for them, and fix up your shortcuts to use it. And the tool includes a pre-built version of the PSF so you don't have to build it yourself.
Version 3
PsfTooling V4.2
Adds support for new EnvVarFixup.
Fixes crash when searching protected folders.
PsfTooling V4.1 ( Blog Description)
Added button to suggest fixups.
Fix for PsfMonitor launch folder when working directory is set via shortcut to folder different from target exe.
Fix Spelling for WaitForDebuger in UI.
Fix placement on detail windows.
Always create a new launcher for FTAs that have a different argument list without prompting.
Fix for LocalAppData
-
PsfTooling V4.0 (Blog Description)
Multiple wizard methods replaced by a single wizard that does it all. This should make the tool easier to use.
Fixes for scripts
General fixes made to the tooling.
PsfTooling V3.8 (Blog Description)
Added support for new RegLegacyFixups
Added support for WaitForDebugger fixup.
PsfTooling V3.6 (Blog Description)
Improved workflow for the Wizards.
New separate tool Psft_TestPeInfo.
New PseudoVariables for scripts
Online class updated to this version.
PsfTooling V3.5 (Seel blog description ).
Additionally, we now have a FREE online training to help you understand how to use this awesome tool. Slide over to our On-line training site grab an account and look for the PsfTooling class under the Packaging category.
PsfTooling V3.2 (Full blog description) includes the following:
Released as an MSIX package itself! Get it from the from the Microsoft Store.
A pre-built version of the Package Support Framework, including the latest changes available at build time.
A revamped User Interface to help with more complicated packages. While the original software was a Json editor with wizards added to inject the PSD, the revamped design is focused around the wizards, and happens to include a Json editor.
Support for the new PSF features, listed below have been added.
An updated 12 minute video to show you how to use it.
Additions to PSF Supported in PsfTooling V3.2: (Full blog description)
We submitted a pull request that was integrated into the main branch of the PSF in December of 2012. This version supports these changes, which include:
A new DynamicLibraryFixup, Add this fixup when your application fails to find one of its dlls. This can happen under MSIX becasuse of changes to the working directory, or that MSIX does not support changes to the Path Variable nor AppPath Regitrations.
Changes to FileRedirectionFixup that now allows for use of the PSF without being required to place all of the PSF components in the root folder of the package. This was always a challenge when using PsfTooling because the tool had to guess where that was. With this change, PsfTooling will now, by default, place the components in folders with the application that needs them and the wizards will configure appropriately. If you need the old behavior, make sure the PVAD pulldown points to the correct folder and uncheck the configuration setting in the FRF that says "Always use VFS pathing".

Changes to

FileRedirectionFixup

that address redirection issues detected. This improves the application compatibility.

Changes to FileRedirectionFixup: Debug logging to the system debug logs (for when TraceFixup is not in use) has been cleaned up. The regular builds will output messages only from PsfLauncher. All debug logging by the FileRedirectionFixup is now limited to the Debug build so as to not affect application performance. PsfLauncher has two shortcuts, one that injects the release build of PSF components and a second one (PsfLauncherD) that injects the Debug version. This allows some level of debugging with the FRF without having to also inject the TraceFixup.
Changes to PsgMonitor: Previously PsfMonitor was built as AnyCPU. Now specific x86 and x64 builds are used. This solved an issue in companies that used group policy to control AnyCPU behavior. PsfTooling now injects a PsfBonitor that matches the bitness of the OS.
Changes to PsfMonitor: The monitor now includes events from the standard Windows Application and System logs automatically.
Additions to PSF Supported in PsfTooling V3:
We submitted a pull request that was integrated into the main branch of the PSF on 6/21/2019. This version supports these changes, which include:
When the FileRedirectionFixup is used, added the ability to control where modified files are copied to. Previously, package files that were modified were always copied to the user's local profile. You may now specify an alternate location such as a HOME drive or SMB share. Note: You may not specify the user's roaming profile; if you do the MSIX Runtime will redirect the copy back into the local profile.

When the

FileRedirectionFixup

is used, added

t

he ability to provide exclusions from the copy-on-access.

When the

FileRedirectionFixup

is used, added

t

he

ability to specify copying from the package AppData or LocalAppData folders so that the app can see it's own settings and data.

When the

FileRedirectionFixup

is used, added

t

he

ability to mark the copies as read-only to redirected settings and data files to prevent user modification. This is useful when IT wants to mandate the configuration.

When the

FileRedirectionFixup

is used, added missing variable names to the Known Folder List (VFS locations).

When the

FileRedirectionFixup

is used, added support for certain file types like blobs.
Microsoft also added changes to the PSF since the version used in PsfTooling V2:
Added the ability to specify a start of application and an end of application script.
Other non-documented changes made by Microsoft.
A post further explaining those changes may be found here: https://www.tmurgent.com/TmBlog/?p=2932
PSF Tooling will automatically fix up shortcuts to non executables and those with arguments to use PsfLaunch for you when you pick the modification of the shortcut.
Training
First, watch this updated 12 minute video about V3.2 of the tool. Then see below for download information and start packaging!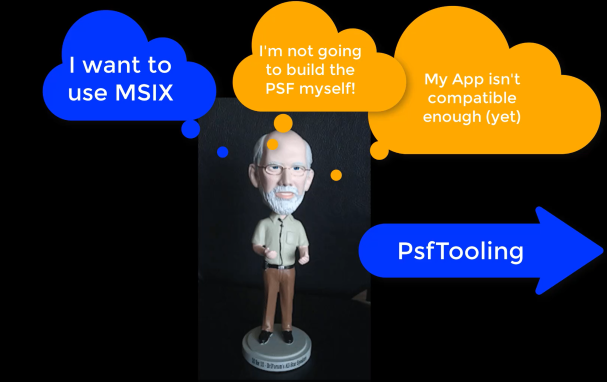 Download:
The software is now delivered as an MSIX package from the Windows Store. You can get it three different ways:
Just go to the Windows store and search for TMurgent-PsfTooling! in the Apps area.
Use Start-->Run on the start menu and type ms-windows-store://pdp/?productid=9NC6K0Q954JV
https://www.tmurgent.com/TmBlog/?p=3042